When it comes to live performance, a useful midi controller can go a long way. We all know we don't wanna be the guy just clicking around on his laptop, but many of us don't know what exactly we're after. After all, our workflow does not create the same type of end result as say, a live band. Things like having your favorite hardware synths and samplers, and favorite live oriented DAW or DJ software help, but what can we use to give our music the live touch that live music is supposed to have? Well, that's why I made this list of some of the best midi controllers oriented for a live environment. With tools you trust, you can take your tracks to the stage and have an engaging and fun time in the process.
Akai MPC Live
The MPC might be the most famous sampler of all time. The long list of legendary producers who have used an MPC to craft their music precedes anything Akai will ever make. That being said, the MPC Live certainly lives up to the hype. To be clear, MPC Live is an all in one production powerhouse in every sense of the word, not just a sampler. It's a first of it's kind, in that it is a standalone piece of hardware that acts as a software DAW and a versatile live controller. Borrowing a bit from the Ableton playbook, the MPC Live has "clip programs" which launch specified groups of tracks.
This in tandem with being able to use the whole machine itself as a USB hub for a number of other controllers you might want to have, the MPC Live becomes perfect for creating engaging live sets. Of course with map-able knobs and tempo matching, the MPC Live offers an exciting way to interact with your tracks and really make them feel special every time you perform them. As with most of the controllers in this article, I could go on about the nuances of this forever, but instead I'll leave you with this awesome review to watch.
Find out more here here
Roland SP-404SX
An oldie but a goodie! To be clear, the SP-404 is technically not a midi controller. The Roland SP-404 is a staple for lovers of hardware samplers, and for good reason. However, it has recently been making it's way into more than a few producers live rigs, as well as being their go to beat machine. For one, this machine is not just a controller. It can standalone to serve every purpose your DAW would in a live set. No Laptop required!
Using in tandem with a computer in your live gig gives you access to a wide array of options. The SP could be a great for sampling live synth lines or drum machine patterns, and stored directly to the hardware's memory. You can access any of your samples by triggering a pad, allowing you to shift between sections seamlessly in a way a normal loop pedal would not allow. Additionally, incorporating the SP gives you access to it's legendary on board DSP effects. Watch this video to see the SP-404 in action.
Learn More here
Ableton Push
When it comes to live performance, no company is known for pushing the envelope as much as Ableton. Adding to this legacy is the Push, an innovative midi controller designed for use with their own software, Live. Push is designed all around the concept of flow. A live controller seamlessly integrated with it's software counterpart is the best way to stay in a flow state while performing live. Push allows you to easily record live midi/audio, and sync it to tempo.
Push also allows you to launch any clips in tandem or independently at any time, allowing you to endlessly vary your tracks arrangement. All of this can be done without even noticing your laptop at all, and that's the most beautiful thing about Push. Push frees you from looking at a screen to keep track of your track (no pun intended)! Live music is supposed to be about expressing ourselves, and this is exactly what Ableton Push offers. Check out this clip utilizing Push to full effect.
Find Out More Here
Alesis SamplePad
The Alesis SamplePad is an excellent way to add some physicality and improvisation to your live sets. In a compact form, the SamplePad gives you 4 pads which can be loaded with any percussion sound in your arsenal via SD card, or you can choose to load one of the 25 sounds the pad comes with. And it's as simple as that! Think of the possibilities... add percussion shots on the fly, or even trigger whole sections of songs. You can plug the SamplePad directly into an amp or PA and use it in any way you want. Check out the capabilities of SamplePad in this clip.
Learn More Here
Expressive Touche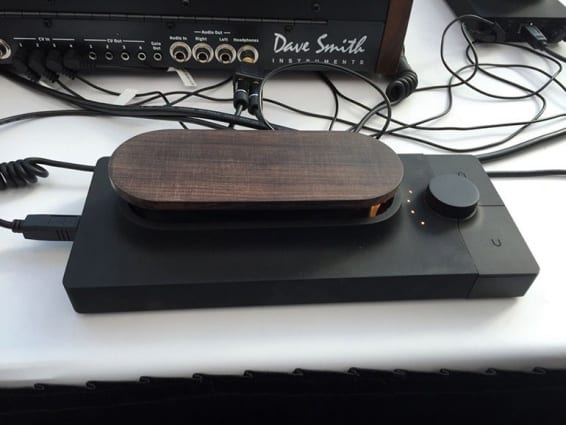 This one is a little odd, however I think it looks pretty promising. The Expressive Touche by The Midi Store is based on the idea that knobs are a bit limiting. The Midi Store's solution is to sync your parameters of choice directly to the movement of your hand. This can be any type of effect or chain of effects! This gives you a whole new way to interact with your sounds, and allowing any of them to have a human touch. Connect to your DAW via USB, and get straight to giving your favorite synth and percussion timbres a unique way to inject expression and personality. Here is a video on The Midi Store's website which features two star trek looking guys having an absolute blast jamming with the Expressive Touche.
Learn More Here here
Native Instruments Maschine Jam
The Maschine Jam is an excellent midi controller because, like the Push, it allows for total control without being glued to your laptop screen. Launch clips, adjust parameters and browse through your laptop to find samples, sounds and songs in a neat and simple way. Another excellent element of this controller is the touch-slide parameter. You can use them as a simple (but very effective) mixer or assign them all to effects. Either way the, the slide mechanism looks and feels awesome to use. All of this at a comfortable price point makes the Maschine Jam a powerful addition to almost any producers live setup. Watch the Maschine Jam in action this video.
Find Out More Here
Roland TR-8
The Roland 808 needs no introduction. It's only the most legendary drum machine of all time. Due to popular demand, Roland was basically forced to re-issue and re-vamp the 808 and oh boy did they deliver. First of all, just look at it. Did you get a good look in? Okay, now we can continue. This amazing drum machine is packed with features, such as dedicated accent and shuffle knobs, large tempo knob and a tap tempo. This is perfect for live situations where you may want to slide your tempo up or down, or make small adjustments to the feel of the rhythm.
When it comes to re-creating the original 808 timbres, the TR-8 delivers that and a whole lot more. The TR-8 gives you 11 instrument types, including sounds from the 808 and the 909, another one of Roland's legendary drum machines. The icing on the cake is the scatter function, which allows you tweak the rhythms with total synchronicity. This thing is too value packed for this small blurb, so watch this video showing off some of the ways you can beef up your live sets with a modernized version of a classic electronic instrument.
Learn More Here
Leap Motion
This one is very unique. The Leap Motion was not designed as a midi controller, at least not exclusively. That's because the Leap Motion is actually a VR motion tracking device, intended to be mounted on the front end of a headset so as to track your hand motions without the need of a hardware controller. However, the Leap has dozens of apps designed for it which re-purposes it for a variety of different tasks, and one of these (called Gecko) lets you use hand gestures to affect midi!
The best part is that this is entirely map-able to the gestures and movements you want to make. You can adjust a filter by lowering your hand above the sensor, or maybe trigger a delay by swiping right. Maybe you want the motion of closing your fist to trigger a percussion loop. The amount of map-able gestures is quite vast, and i think this is an excellent way to add some physicality to your sets. Audiences love to see your movement represented in the music, and that's exactly what Leap Motion accomplishes. Check out the possibilitiesin this video.
Learn More Here
Novation Launchpad
The Novation Launchpad brings the simplicity back to the task of playing live. Intended to be paired with Ableton Live, the Launchpad allows you to trigger clips in any order you want with no BS to distract. Just an awesome affordable tool here, with it's own set of unique features, such as turning the 8 x 8 grid into a mixer on the fly and creating a brilliant light show. The Launchpad also comes included with a copy of Live Lite. so even if you don't already have Ableton, the Launchpad is the perfect way to jump into the action. Watch the Launchpad going nuts in this video, and enjoy the show!
Learn More Here