When It comes to synth sounds, it's no secret that today it is easier than ever to create and access nearly any type of timbre, whether that means vintage/analog inspired or modern, detail rich, layered EDM sounds. No matter what type of track your creating, software synths are a great tool for any producer.
However the inflated price-tags on many popular VST synth engines has many producers believing paying for generic sample packs with pre-made synth sounds and melodies is the only wallet-conscious option. Thankfully though, for those wise enough to look, there are many companies offering completely free VST alternatives to the pricey and CPU murdering soft synths . I've went ahead and made a complete list of all of my favorites, and included links where you can download and try them for yourself. Enjoy!
JuceOPLVSTi by bsutherland
Sometimes simple wave forms can make the best lead or pad sounds! Pulling straight from 80's DOS sound card nostalgia, JuceOPL is a one stop shop for amazing sounding FM synthesis. Don't be fooled though, the power of this VST is in its simplicity. A massive variety of sounds can be created by combining wave-forms, not just simple "retro" sounds. This plug-in is a staple in my productions and its completely free with the source code also available online.
Download it for free here
TAL-Elek7ro by TAL software
The TAL-Elek7ro is a virtual analog synth boasting a grip of dope features. Between 2 oscillators (and 1 for sub), routable LFO's, a poly (6 voice) mode, portamento, and assignable midi for all parameters, can provide hours of virtual analog sound manipulation. Whether you need deep bass sounds, percussion, pads, or leads, TAL can help you create the exact sound your track needs.
Download it for free here
TAL-Bassline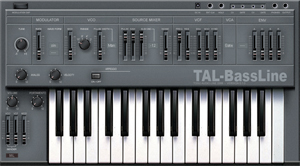 As if the TAL synth didn't provide the framework to build insane bass sounds, The TAL-Bassline is an absolute beast in this regard. Featuring assignable midi, 23 presets and a built in arpeggiator, TAL-Bassline is great addition to almost any bassheads arsenal to make some rafters rumble.
Download ithere
Dexed
Dexed is a plugin synth closely modeled after the Yamaha DX7. Although the virtual visual component can be intimidating to newcomers, If you love getting your hands dirty building sounds on something modeled after a classic hardware synth, this VST is for you! With 144 adjustable DX7 parameters and the ability to easily store your patches, Dexed is a no brainer for anyone looking for some seriously powerful synth power while also minding their wallet.
Download ithere
Dolphin Bassline
Dolphin is a simple monophonic bass synth. It boasts just a single oscillator which you can set as either saw or square, and from there you can adjust tuning (in cents), cutoff, resonance, envelope modulation, decay, and accent. Simple and to the point, if you want a simple bass plugin, Dolphin has all the low end grime you'll need.
Download Dolphin here
Digits by Extent of the Jam
Digits is a minimally designed phase distortion synthesizer. Digits is not only for those looking to save some cash on new VSTS, Digits is for those looking to break orinary rules of synthesis. With over 70 presets, Digits can create a vast array of sounds that most paid plugins can only imply. With a sleek, minimal user interface, Digits should be a staple for adventurous producers of any level looking to maximize creativity.
Download Digits here
Spitfire Audio LABS Virtual Instruments
If your the type of producer who just loves getting into designing texture rich sounds and avoids complicated interfaces, routing, and patching, Spitfire Audio is coming to the rescue with an incredible set of free plugins called LABS. All of them are sample based and feature only a few parameters each, these things sound amazing. Minimal, sleek designs keep you focused on creativity, while the high quality samples put you head and shoulders above users of other instrument modeled VSTS.
Download all of the LABS Virtual Instruments here